Swissdepil: Epilation & Peeling System Made in Switzerland
---
Click here for more information!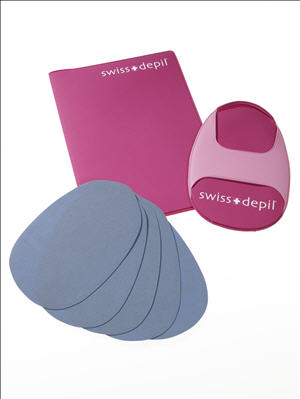 A painless and fast hairremoval system
Swissdepil is a revolutionary painless method that combines a perfect hair removal with a soft peeling. With Swissdepil you simply rub away unwanted body hair. The method is quick, gentle and without chemicals and skin irritation.
Made in Switzerland
The Swissdepil system is completely produced in Switzerland and puts an end to waxing and other painful hair removal methods. The high quality as well as the extensive testing ensures a product that will not irritate any skin types.
Natural and without chemicals
The core of Swissdepil consists of the micro-abrasive pads, that contain microscopic crystals embedded in resin (all non toxic and tested according to Swiss and European Union standards). With circular movements you rub away the unwanted hair quickly and thoroughly. The Swissdepil method is ideal for all body-parts, also for sensitive areas. The system is completely natural: no electricity, creams or chemicals are used.
---

Email: info@swissdepil.com, Telephone: +41 44 586 4628, Fax: +41 81 740 6786